Forest of Reflection at Milan Design Week 2022
An immersive forestscape in the heart of Milan by Calico Wallpaper, AB Concept and NUDE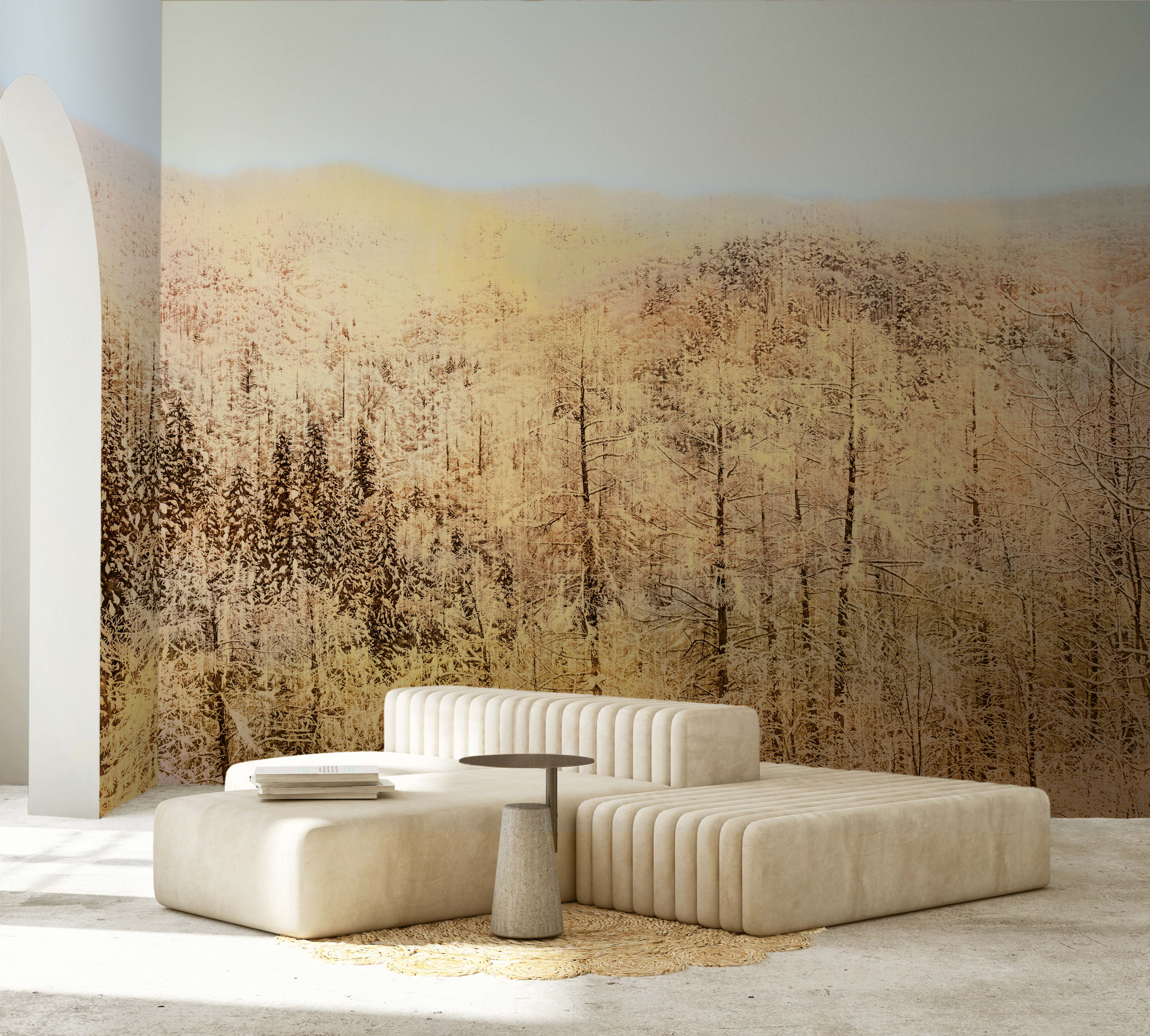 Milan (6-12 June 2022) — For this year's edition of Milan Design Week, Calico Wallpaper partners with interior design studio AB Concept and contemporary glassware brand NUDE to present Forest of Reflection, an immersive forestscape inspired by the Japanese Alps in celebration of the launch of ​ Tableau wallcoverings by ab concept for Calico Wallpaper.
Forest of Reflection will transform Via Pietro Maroncelli 7 into an entrancing forest complete with a grass floor, floating screens and central 'Nest bar', crafted from a series of layered antique brass rings. The installation draws from the new Tableau wallpaper collection, which explores the colourful and complex micro-seasons of Japan's coniferous forests, presenting both day and night scenes over two rooms, each dedicated to a different panorama. 
"Forest of Reflection is designed to be evocative, a place of serenity. Forests offer a special sense of wellness and stimulate all of the senses: sight, sound, scent, texture and taste. We wanted to replicate this, and offer a place of stillness and escapism during such a busy week." – Ed Ng, Co-Founder at AB Concept. 
Visitors to the space will be guided through a woodland of silk-printed screens, lit by celestial clusters of NUDE's mouth-blown Mono pendants, culminating at the Nest bar which will be hosted by NUDE and serve a daily aperitivo (8-10 June); a bespoke cocktail designed by award-winning mixologist Remy Savage. 
Prepared with gin, vermouth, aromatic crème de poire and a heady cordial of foraged pine and lime, the aperitivo captures the essence of a Japanese forest, and adds to the sensory experience by allowing visitors to encounter its unique tastes and scents. The concoction will be served in NUDE's signature cocktail glasses designed by Remy Savage, whose intricately fine and elegant designs were inspired by the Japanese drinking preference for supremely thin glassware, allowing the drinker to be as close as possible to the liquid.
NUDE, a global design brand of the Şişecam Group, is one of the leading pioneers in contemporary glasswork. "As a natural and abundant material, we see the simplicity of our glass echoed in the serenity and ethereal calm of the forest surroundings. Using the subtle accents of our coloured and frosted glass, ab concept has cleverly recreated the warming, redolent hues of dawn and dusk." – Asli Aydogan, Şişecam Sales Channels Director and Head of NUDE. 
The overall design of the space has been realised by AB Concept, who in partnership with Calico Wallpaper, used photographs taken by AB Concept co-founder Ed Ng of the ever-changing scenery that surrounds his home in Karuizawa, Japan, as the inspiration source. Ed's photography captures the mesmerising qualities of a mountain range as it transforms in reaction to clouds, light, snow and mist. Layers of fine lines, reflective touches and delicate hues, combine with diverse trees and plants, creating an ever-changing texture on the terrain and inviting viewers to continually discover the glistening landscape anew.
"We worked with AB Concept to capture this majestic landscape from a range of perspectives – from distant and delicate to fully immersive, demonstrating the lifecycle of a forest," expresses Calico Wallpaper co-founder and creative director Rachel Cope. "From Ed's images, we drew on various abstract and artistic painting techniques to convey the brisk yet soft, dream-like light and colour of the Japanese Alps, and using advanced technologies have translated these into custom-fit Tableau murals which adorn the space."
Tableau comprises eight colorways: Aspen, Auburn, Awash, Nebula, Nightfall, Nimbus, Nival, Springtide and is available for purchase through Calico Wallpaper. 
---
NOTES TO EDITORS
Forest of Reflection Opening Times
6 June, Press Preview: 10:00 - 15:00 (Aperitivo served from 15:00 - 17:00)
7 June, 10:00 - 16:00 (Coffee and tea served throughout the day; Private cocktail 17:00 - 20:00)
8 - 10 June, 10:00 - 19:00 (Coffee and tea served throughout the day; Aperitivo served between 17:00 - 19:00)
11 - 12 June, 10:00 - 18:00 (Coffee and tea served throughout the day)
CONTACT
For press information, please contact Camron PR:
ABOUT CALICO WALLPAPER ​ ​ ​ ​ ​
Calico Wallpaper is a designer of bespoke wallpaper. The company was founded in Brooklyn, New York in 2013 by creative and life-partners Nicholas and Rachel Cope. Their process combines artisanal methods from the decorative arts, such as traditional marbling and dip-dyeing techniques, with innovative technologies. Calico Wallpaper works with a global roster of leading designers and architects. In addition to residential and hospitality projects, Calico Wallpaper's designs have been exhibited internationally at the London Design Festival (2015, 2017, and 2019), Salone del Mobile in Milan (2015, 2017, 2018, and 2019), and have obtained a place in the permanent collection at Cooper Hewitt, Smithsonian Design Museum. In 2021, Calico Wallpaper opened their first showroom at 57 Lispenard Street, New York, NY with partner and furniture manufacturer Stellar Works.
www.calicowallpaper.com / @calicowallpaper ​ ​ ​ ​
ABOUT AB CONCEPT ​ ​ ​
AB Concept is a design studio founded in Hong Kong in 1999 by architect Terence Ngan and interior designer Ed Ng. Over twenty years they have built a global portfolio of commercial and residential places, bringing the values of their clients to life in physical space with soul. Working as a creative partner with many of the world's leading hospitality brands – such as Rosewood, Four Seasons, Marriott and Waldorf Astoria - they create compelling environments that make people feel present in the moment.
In addition to spaces, AB Concept also designs furniture, lighting and textiles founded on the power of good design to enhance our quality of life.
Combining rigour with warmth, AB Concept goes beyond providing solutions to design emotional journeys within their projects, taking care that rational responses are always combined with attention to feeling, alongside function and form; they describe their mission as "translating intangible emotions into tangible realities, designing for experience and memory together."
abconcept.net / @ab_concept ​ ​ ​
ABOUT NUDE ​ ​ ​
Istanbul-based global design brand NUDE is the creator of contemporary glassware for modern living. Each collection is conceived with simplicity in mind, designed to marry form and function for modern day living. With the ethos 'simple is beautiful', the global brand designs and manufactures crystalline glassware, from handcrafted decorative objects to statement tableware and lighting. Its vast portfolio of glass collections is designed by a pool of leading international talent including: Ron Arad, Space Copenhagen, Studio Formafantasma, Tomas Kral, Nigel Coates, Sebastian Herkner, Brad Ascalon, Defne Koz, Joe Doucet, Markku Salo, Inga Sempé, Mikko Laakkonen, Adrien Rovero, Alejandro Ruiz, Alev Ebuzziya Siesbye, Youmeus Design, Ayşe Birsel + Bibi Seck, Ali Bakova, Remy Savage, Pentagon Design, Tamer Nakışcı and Erdem Akan. NUDE is available at leading stores around the world such as John Lewis, Fenwick, Bloomingdale's, Neiman Marcus, Nordstrom and Saks Fifth Avenue. NUDE is part of the Şişecam Group established in 1935 that operates on an international scale, exporting to 150 countries around the world.