Calico Wallpaper Introduces Tableau in collaboration with AB Concept
A bespoke wallpaper collection inspired by the forests of Japan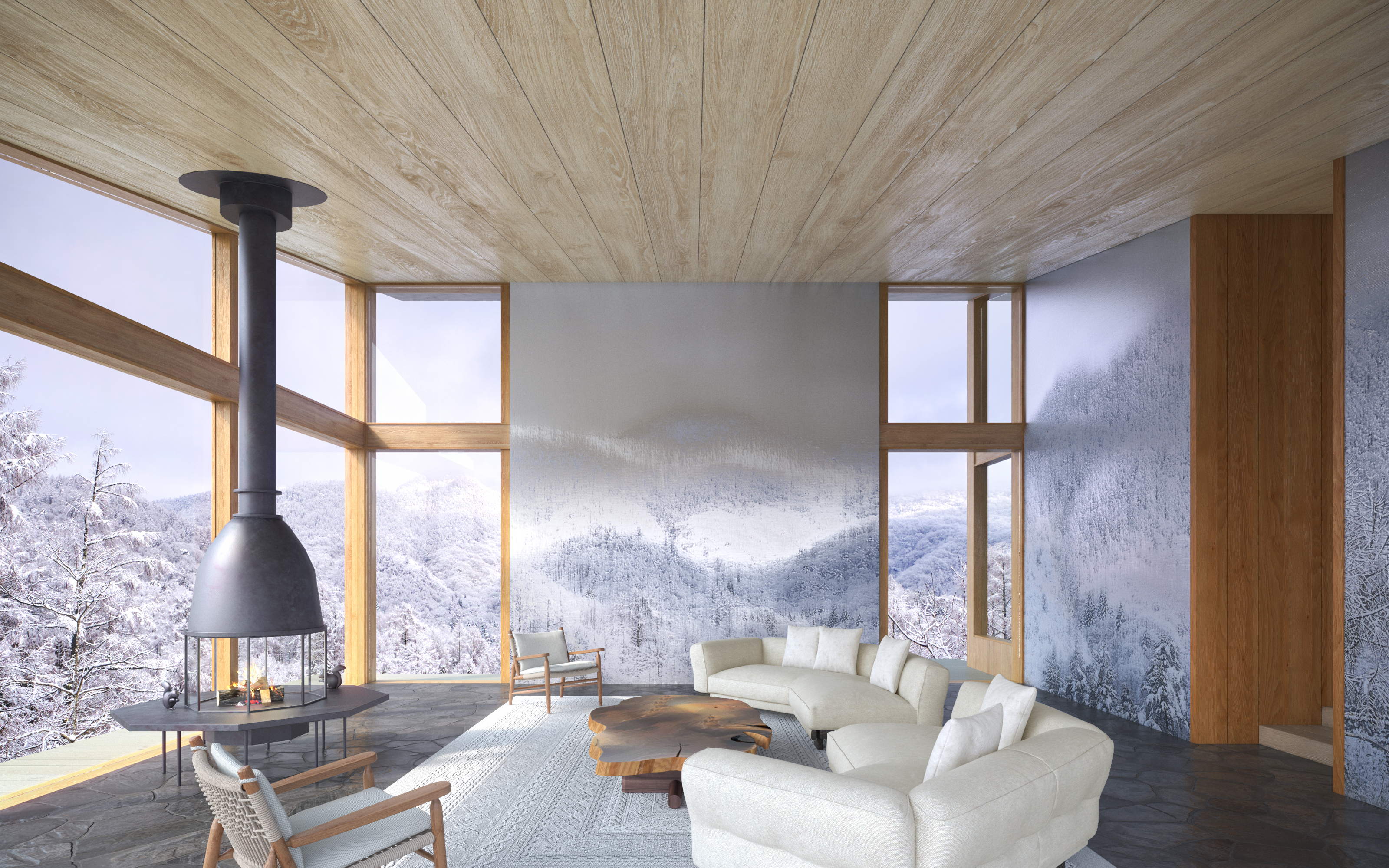 New York, New York (June 6, 2022) — Calico Wallpaper is pleased to announce the debut of its newest collection, Tableau, in collaboration with international interior design and architecture studio, AB Concept. Tableau explores the colorful and complex micro-seasons of Japan's coniferous forests, creating evocative and serene panoramas.
Energized by the seasonal scenery of Karuizawa, Japan —the cherished mountain town and home of AB Concept co-founder Ed Ng — Calico Wallpaper's creative team worked in tandem with the design studio to compose Tableau's majestic landscapes. Tableau captures the mesmerizing qualities of the magnificent mountain range as it transforms in reaction to clouds, light, snow and mist, reflecting the exquisite, unique nature and life cycle of Karuizawa. Layers of fine lines, reflective touches and delicate hues, combine with diverse trees and plants, creating an ever-changing texture on the terrain and inviting viewers to continually discover the glistening landscape anew. 
"Ed Ng's photography of Karuizawa was a huge inspiration," expresses Calico Wallpaper co-founder and creative director Rachel Cope, "From his images, we drew on various abstract and artistic painting techniques to convey the brisk yet soft, dream-like light and color of the Japanese Alps. "
"Photography has been a long time hobby since design school; The transient moments of the ever-changing forest surrounding me in Karuizawa trigger intense desire to archive these visual delights as my creative energy during the last two years of social distancing. It's been an inspirational collaboration to work with Calico Wallpaper to bring these images to life, expertly translated into the Tableau collection" said AB Concept co-founder and principal Ed Ng.
Tableau's range of perspectives — from distant and delicate to fully immersive — demonstrates the life cycle of the forest. Tableau comprises eight colorways: Aspen, Auburn, Awash, Nebula, Nightfall, Nimbus, Nival, Springtide. 
As with all Calico Wallpaper collections, Tableau was born from original artwork. The Calico Wallpaper team employs advanced technologies to translate its designs into custom-fit murals that are tailored to a client's project and space. Tableau is available for purchase through Calico Wallpaper, and samples can be ordered at www.calicowallpaper.com. 
ABOUT AB CONCEPT
AB Concept is a design studio founded in Hong Kong in 1999 by architect Terence Ngan and interior designer Ed Ng. Over twenty years they have built a global portfolio of commercial and residential places, bringing the values of their clients to life in physical space with soul. Working as a creative partner with many of the world's leading hospitality brands – such as Rosewood, Four Seasons, Marriott and Waldorf Astoria - they create compelling environments that make people feel present in the moment.
In addition to spaces, AB Concept also designs furniture, lighting and textiles founded on the power of good design to enhance our quality of life. Combining rigor with warmth, AB Concept goes beyond providing solutions to design emotional journeys within their projects, taking care that rational responses are always combined with attention to feeling, alongside function and form; they describe their mission as "translating intangible emotions into tangible realities, designing for experience and memory together."
abconcept.net / @ab_concept
ABOUT CALICO WALLPAPER
Calico Wallpaper is a designer of bespoke wallpaper. The company was founded in Brooklyn, New York in 2013 by creative and life-partners Nicholas and Rachel Cope. Their process combines artisanal methods from the decorative arts, such as traditional marbling and dip-dyeing techniques, with innovative technologies. Calico Wallpaper works with a global roster of leading designers and architects. In addition to residential and hospitality projects, Calico Wallpaper's designs have been exhibited internationally at the London Design Festival (2015, 2017, and 2019), Salone del Mobile in Milan (2015, 2017, 2018, and 2019), and have obtained a place in the permanent collection at Cooper Hewitt, Smithsonian Design Museum. In 2021, Calico Wallpaper opened their first showroom at 57 Lispenard Street, New York, NY with partner and furniture manufacturer Stellar Works. 
www.calicowallpaper.com / @calicowallpaper